Solatube Tubular Skylights
Help transform any dark room in your home into an extraordinary one, flooded with pure, natural light.
Book a Free Consultation
Solatube Tubular Skylights
The system is inexpensive, easy to install, and involves absolutely no structural changes to your home. All that's needed is a small rooftop dome that captures and funnels sunlight down reflective tubing and into your home. We can also provide the Architect Series Low Profile Collector system, which is a favourite among residents of gated communities.
The Solatube Daylighting System is the only product with Spectralight Infinity, a revolutionary reflective tubing material that can transfer up to 500% more daylight than any similar material on the market today. With 99.7% specular reflectivity, it's a safe alternative that collects low-angle sunlight while rejecting overpowering rays that can result in glare and heat gain.
Superior natural lighting: Provides more light than skylights or windows many times their size.
Versatile: Perfect for virtually any room, including those without direct roof access.
Inexpensive: Considerably less expensive than windows or skylights.
Easy to install: Takes a professional under two hours to install.
Eco-friendly: Helps reduce energy consumption.
Now available with the new Solar-Powered NightLight for areas that need a touch of "night light" when it is dark out.
Also available is the Solar-Powered Daylight Dimmer for bedrooms, den or media areas you may want to stay dark during the day.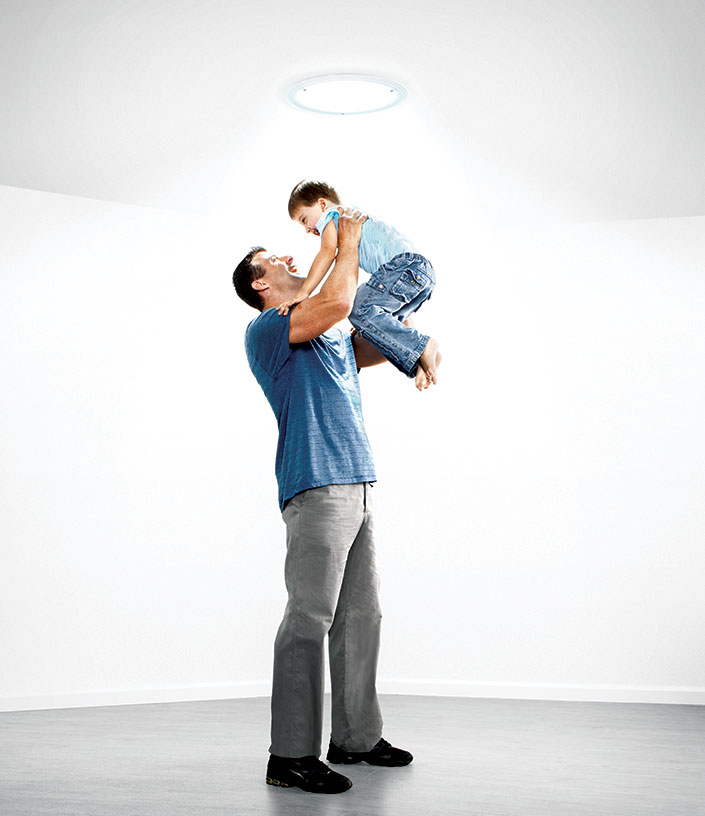 We also offer replacement skylight service with high quality skylights by Solatube. These double-paned, Low-E glass skylights provide 99.5% UV blockage and Energy Star-rated thermal performance. With 12 standard sizes available to replace your broken or cracked skylight, we can cover most applications quickly. If needed, we can custom make skylights as required.
Whether it's a cracked skylight you need replaced or want to upgrade to our Solar-Powered Fresh Breeze skylight complete with bug screen, we can solve your skylight issues.
Call now for a free estimate!
"Solatube was definitely the right choice for our needs.

Tim Ford